Art, Soul and Body
LARA D'AMELIA
Born in Padua on 8/03/1986, at a young age she studied contemporary, modern, classical and jazz dance in her hometown. This passion leads her to migrate to Turin where she approaches the circus arts, attending the professional course and graduating as a Contemporary Circus Artist at the Circus Vertigo school with an aerial circle specialty.
In his years of study he was able to undertake a personal research of fusion between the various aerial dance techniques and body movement, finding in his contortion skills the main expression.
Subsequently he deepens his study of aerial technique following various stages in the most important European schools including: circus school ESAC (Bruxelles), Fratellini (Parigi), Lido (Toulose) e Arc en cirque (Chambery) ; also decides to develop his knowledge even from a technical point of view and rigging, participating in the training course for experts in high altitude.
In the various experiences he decides to deepen more specifically the aerial fabric technique trying to find a more personal language. Later he also trained as agile hand in hand studying with the famous russian artist Igor Matyushenko.
shine perfection
Charm
He works mostly individually in cabarets, events, theaters in Italy and abroad such as the Candy Club cabaret in Sweden, the tour of the show "Circundando" for the Canary Islands, Cirque Carillon in Turin, Osa in Cinecittà etc. .. and in various television programs: La Botola with Fabrizio Frizzi on Rai1, DOMENICA LIVE con with Barbara D'Urso on canale 5, in the show SI PUO' FARE di Carlo Conti  on Rai 1 arriving in the final and for the Volley Land al Mediolanum Forum di Assago on Rai Sport.
Collaborates as a performer with Italian companies such as LIBERI DI and SONICS and has been able to enrich their creative baggage as well as great experiences and professionalism, including learning and performances in the bowl of water. Currently he has had the pleasure of collaborating again with Sonics for big events in Bahrain and Riyadh on local TV stations and for Breathe.

He works as an acrobat artist on the theatrical show between variety and magic WOW with Luca Bono. This experience with artists who use the mysterious techniques of magic instead of the body language of acrobatics has greatly changed the way the artist sees the show and thus having a more total and complete vision.

He had the pleasure of expanding his artistic knowledge by approaching with a different physical and expressive language and thus working with the famous company LA FURA DELS BAUS for the opening event of salone dell'auto Torino 2017.

He felt the need to be inspired again and made a collaborative friendship and artistic exchange with the choreographer of Hip hop, Popping and Vogue Stefano Pastorelli and with one of the best Italian Hooper Veronica Tomasino also rediscovering the charm of another type of circle in addition to the air discipline or the hula hoop.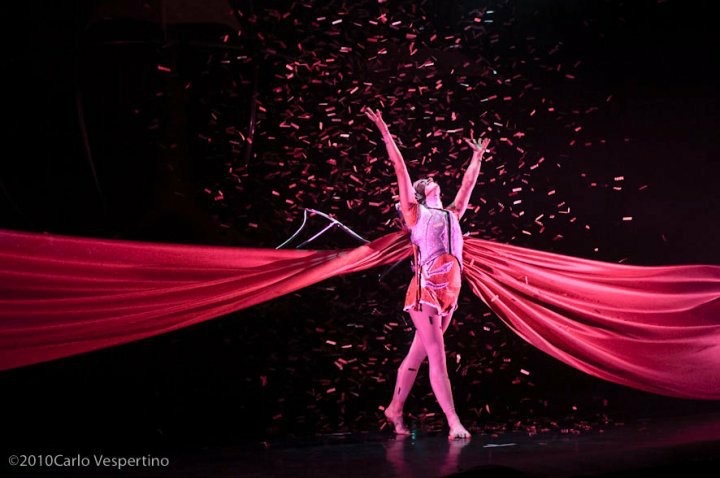 Choreographer and performer of the tour of Fondazione Cirko Vertigo: "Tremila Regni" for Reply on the Salone delle Fontane di Roma, OGR on Turin and Alcatraz on Milan.
An eternal instant
Follow me on my social networks.